STATESVILLE HAUNTED PRISON®

The Prisoners have rioted, the guards have fled, a darkness has seized control of this Maximum Security Prison and our Warden has opened the gates for visitors. After the prisoners have processed "The Meat/Visitors", you will be forced to find your way through 23 maximum security cells and come eye to eye with over 100 criminals that were too evil to die. Statesville Haunted Prison®. No one escapes. MORE PICS
CITY OF THE DEAD

After you find your way out of the mighty walls of Statesville, you must descend into the burial pit of City Of The Dead. In these caves and mine shafts you will find the mass graves of Statesville's past inmates. Here, in the depths of this unholy tomb, the Gatekeeper has risen from the dead and the zombies are on the march. You must make it back to the surface before you become a permanent resident. MORE PICS
ZOMBIE HUNT

1 Shotgun, 12 Paintballs and all of your courage: THAT'S ALL YOU GET as you blast away AT the charging Zombie!

Only $5 to test your postapocalyptic Zombie Hunting Skills at the exit of Statesville®!
---
STATESVILLE ZOMBIE FARM PAINT BALL
Can you handle this intense Zombie Ride?
Experience over a half-mile of TERROR as you shoot Zombie Slime Paintballs at real zombies and targets from an actual army troop carrier truck! Will you make it out alive??
Statesville Haunted Prison® has been one of Illinois' best haunted houses for 15 years. With over 150 live actors attacking you at every step, over 40 horrifically detailed rooms and an average time of 40-50 minutes required to get through its oppressive walls, Statesville® has earned the reputation as one of the best haunted houses in America. It is the constant innovation of its design team (Zombie Army Productions) and the relentless dedication of its actors that has created the most highly acclaimed Haunted House in Chicagoland and the state of Illinois. Statesville® has been named "Best Haunted House in Chicagoland" for 10 of the past 12 years by HauntedHouseChicago.com, ranked a "Must See Top 25 Haunted Attractions in America" by Haunted Attraction Magazine, and has received the highest rankings available in both Time Out Chicago and the Red Eye. Critics have said that our success is due to our cutting edge effects, attention to detail, the aggressive believability of the actors and the fact that our audience feels like they are actually in a horror movie. However, we feel that our success is due to one simple philosophy: We love our fans and we work all year long to give them the very best haunted house experience of their lives. Statesville® is less than 40 miles southwest of Chicago, on the border of Joliet, and sits in the shadow of Stateville Maximum Security Prison on Siegel's Cottonwood Farm. This Halloween season, don't just go to any haunted house, go to Chicago's scariest haunted house, and face the beast that is Statesville Haunted Prison®.
LATEST FROM THE PRISON ACTIVITY BLOG
POSTED ON 10/28/2013 :: 12:21 PM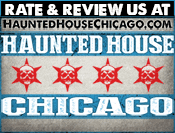 HauntedHouseChicago.com 2013 Official Review

Reviewed on: Sunday, October 13, 2013

Scores:

Entertainment: 19.5 out of 20
Scare Factor & Fright: 9 out of 10
Acting: 10 out of 10
Sets & Room Detail: 10 out of 10
Costumes: 5 out of 5
Make Up: 5 out of 5
Sound: 5 out of 5
Lights: 5 out of 5
Props & Special Effects: 9.5 out of 10
Originality & Story Concept: 10 out of 10
Management & Owner Presentation: 5 out of 5
Website: 5 out of 5
Total: 98 points out of 100 points possible
"(Statesville's) characters give a tremendous accent to a show that is simply amazing. I'm not sure if it is still appropriate for the folks from Barnum and Bailey to call their show the Greatest, because they would have some steep competition. This year's submission has to be the top entry they have had in their entire run..."
Read the full review at
HauntedHouseChicago.com
Days of the Living Dead
Go behind the scenes with the Zombie Army as they build, cast and run Statesville Haunted Prison® in Season 4 of Days of the Living Dead, a haunted house reality web series. For more episodes and to see Seasons 1-3, visit http://www.daysofthelivingdead.com
(Note: Click HERE to go to the top of the page and mute the sound effects, then scroll back down here to watch the show!)